Application areas
Single Pair Ethernet cables can be used for different applications within diverse industries. The intended application is the key factor in the development of SPE cables.
For example, Single Pair Ethernet cables are suitable for fixed installation, mobile applications, and even highly flexible applications. For many industrial applications, high temperature-resistant and rugged SPE cables for indoor and outdoor installation are also required.
SAB's focus is on two Single Pair Ethernet cables, which have been specially developed for the increasing data transmission rates in automation. In addition to the CATLine C-Track, a drag chain-compatible Single Pair Ethernet cable, SAB Bröckskes has also developed a robot-compatible SPE cable with UL recognition, the CATLine SPE Robot.
The drag chain- or robot-compatible SPE cables ensure safe and reliable data transmission over a bandwidth of 1-600 MHz. These cables are also PWIS non-critical, oil resistant, UL recognized, and RoHS compliant.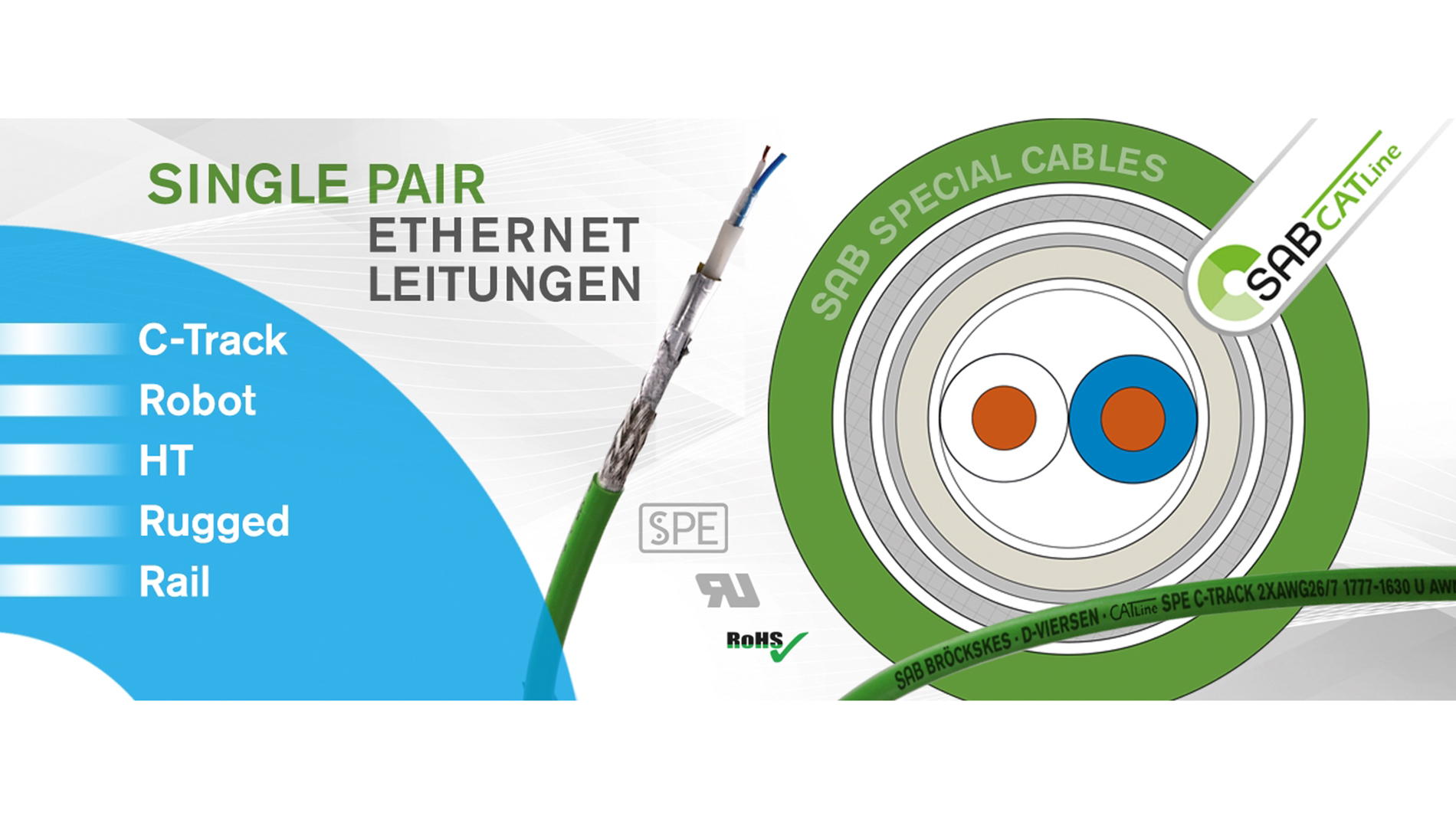 SPE network
As an early member of the SPE network, SAB Bröckskes' ambition is to help establish SPE technology on the international market and drive new fields of application in the different industries. To this end, the cable specialist from Viersen has developed a complete product range for diverse applications:
| | |
| --- | --- |
| CATLine SPE C-Track | Single Pair Ethernet cable, drag chain compatible |
| CATLine SPE Robot | Single Pair Ethernet cable, robot compatible |
| CATLine SPE HT | Single-Pair Ethernet cable, high temperature resistant |
| CATLine SPE Rugged | Single Pair Ethernet cable for rugged indoor & outdoor use |
| CATLine SPE Rail | Single Pair Ethernet cable for railway applications |
Design and manufacture of SPE cables
Due to the high mechanical and transmission requirements of Single Pair Ethernet cables, the demands on design and production are also significantly higher compared to multi-pair stranded Ethernet cables. The manufacturing specifications must be complied with to the letter.
All Single Pair Ethernet Cables are designed as single pair cables (2 x AWG 26/7) and can also be designed as hybrid cables depending on the application. SAB expects a lot of application-related special solutions, e.g. with power supply for motors and sensors. SAB considers itself well positioned in this area and would like to offer custom solutions.
Design requirements differ depending on the application. For drag chain applications, a permanently flexible design with a specially adapted stranding technique was chosen for the CATLine SPE C-Track cable. For robot applications, the design was adapted to guarantee flexible use for a torsional application of +/- 180°.


Advantages over traditional ethernet cables
Compared to a traditional 4-pair Ethernet cable, SPE cables save up to 30% on space and are up to 35% lighter. Considering the amount of cable that would be laid in km, the resulting cost savings are considerable. Over the life cycle of a railroad, for instance, you would be looking at savings somewhere within the 6-digit euro range.
Standards & transmission quality
A T1 SPE C-Track cable must meet the electrical and transmission requirements of draft standard CD IEC 61156-12 Ed. 1.0. Connectors are available from Harting, for example with which SAB Bröckskes works closely. Used in combination, full compliance with the standard is then assured.
Based on current information, SPE requires no more bandwidth than Cat.7A. SAB cables have already been successfully tested.
Special solutions for special applications
SAB's manufacturing capabilities extend not only to basic types and standard dimensions, but, in particular, to special cables designed according to each customer's requirements. Production can also be carried out in small batch sizes, which are of interest for small and pilot series.
Cable manufacturer since 1947
SAB Bröckskes is one of the world's leading cable manufacturers and suppliers of cables assemblies as well as temperature measurement technology. In over 75 years, a one-man operation has grown into a company with over 550 employees, which today more than ever guarantees outstanding quality made in Germany.
Our expertise lies in the design of highly flexible cables according to customer specifications for a wide range of applications, for example in the fields of automation, robotics, crane engineering, and railway technology. Subsidiaries and offices around the world work hard to find the optimal solution for our customers from more than 1,500 new developments per year.
An innovative cable specialist already in its third generation, we focus on continuously developing and further developing our products through intensive research and development as well as tests and inspections. Because not only do we produce cables, we also deliver solutions to problems.
Contact
Sacir Adrovic
adrovic@sab-broeckskes.de
Phone 02162/898146
Fax 02162/898147
www.sab-kabel.de