From A to Z – we help you with your exhibition appearance, from planning to execution. You can exhibit at your own stand or take advantage our offer of a rental stand, including stand equipment.
Rental stand – participation made easy
You can order rental stands and rent furniture and equipment from our service partners. Our safety and hygiene concept have influenced the design of the rental stand packages.
System stand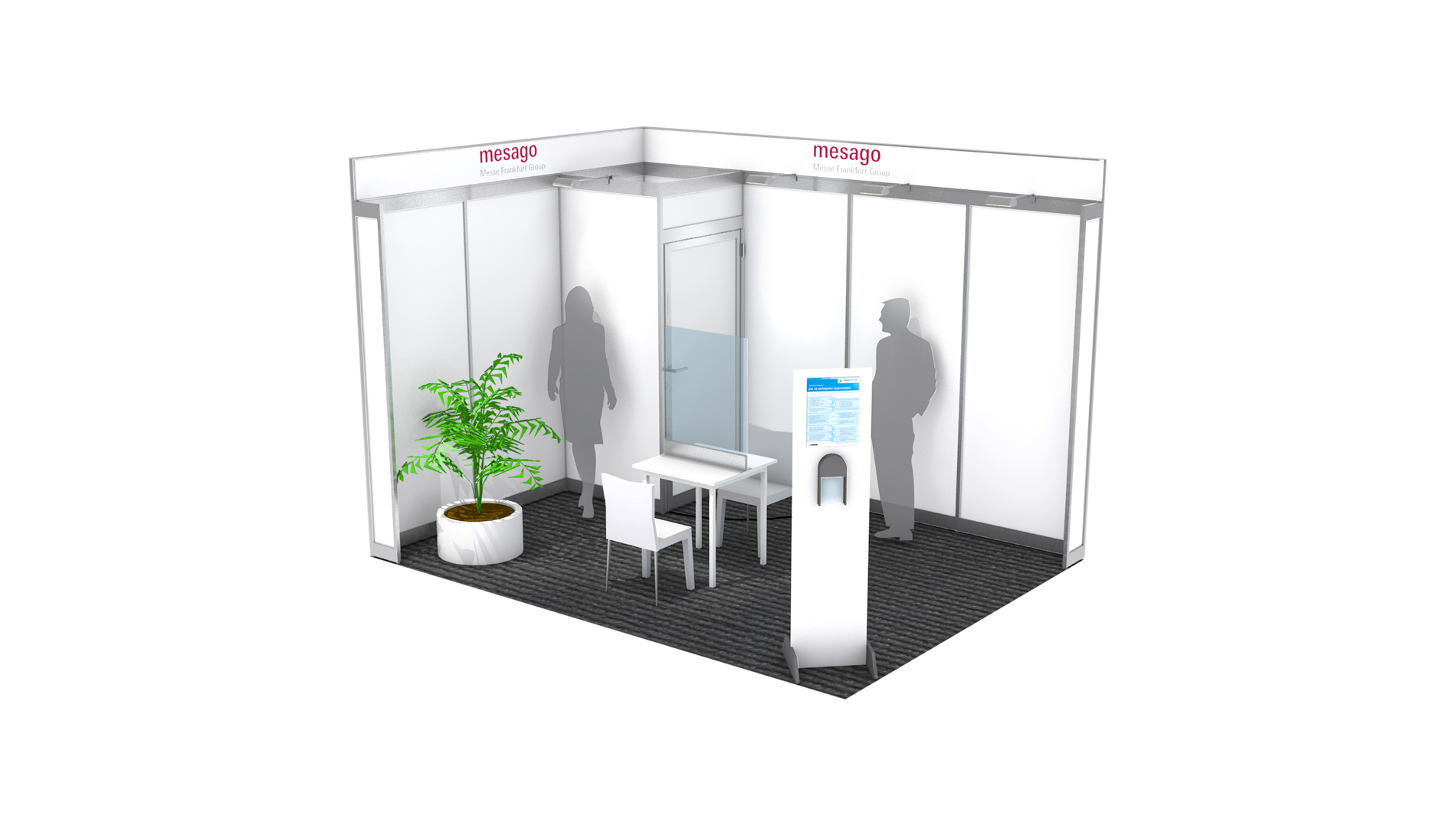 Basic: 125 Euro/sqm plus VAT
Comfort: 140 Euro/sqm plus VAT
Premium: 165 Euro/sqm plus VAT.
Sample stand construction package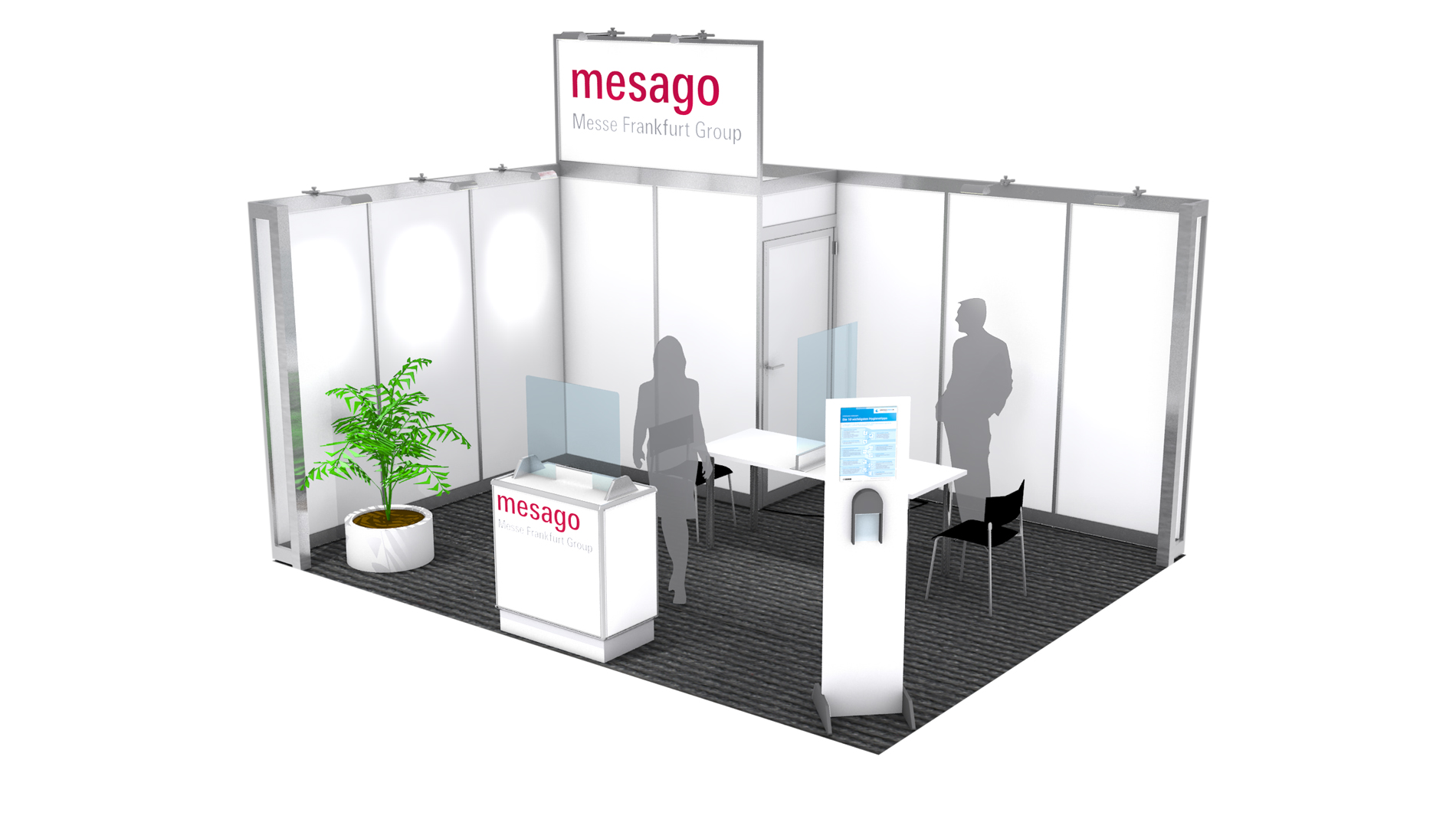 Carpet
Name board
Panels
Spotlight
Lockable cupboard
Power supply
Seating area
Cleaning service
One disinfectant dispenser incl. 3l disinfectant
Spitting protection
Sample costing
Price of a row stand, type "Basic" (12 sqm) with early bird price (until 27 March 2020)

Row stand price: 226 Euro x 12 sqms = 2,712 Euro
System stand price: 105 Euro x 12 sqms = 1,500 Euro
AUMA fee*: 0,60 Euro x 12 sqms = 7.20 Euro
Compulsory marketing fee: 540 Euro

Total cost excl. VAT: 4,759.20 Euro
*An additional surcharge of 0.60 Euro per sqm + VAT will be charged on behalf of, and accounted to, the Association of German Trade Fair Industry (AUMA).
Joint stand "Automation meets IT"
As an exhibitor at the joint stand, you can present your digital solutions for automation specialists on the road to Industry 4.0. The creation of a thematic focal point at this joint stand generates a high degree of synergy. Participation is cost-effective and convenient. Book our full-service package, which includes everything you need for a successful exhibition.
Cedalo AG
Cybus GmbH
Ekkono Solutions AB
Endian Deutschland GmbH
inray Industriesoftware GmbH
iT Engineering Software Innovations GmbH
LCM Linz Center of Mechatronics GmbH
LumenRadio AB
Magic Software Enterprises (Deutschland) GmbH
Objetkultur Software GmbH
ondeso GmbH
ProCom GmbH
Procon-system GmbH
Rhebo GmbH
Roth Steuerungstechnik GmbH
SHTEC Engineering GmbH
SSV Software Systems GmbH
Synostik GmbH
Tvarit GmbH
Asset Management
Cloud-basierte Services
Datenzentrierte Services
Predictive Maintenance
OPC UA
Joint stand "Sensors and Measurement"
Sensors are essential components of automation. At the joint stand "Sensors and Measurement" you present your solutions in the field of sensor technology to our trade visitors.
Binary sensors
Rotary transducers
Identification sensors and systems
Industrial image processing
Measuring sensors and systems
Safety sensors and systems
Measuring transducers
Measuring instruments for electric signals
Contact person for joint stands
Meet & Seat Zone
Exclusively for new exhibitors at the SPS 2020 we have designed the Meet & Seat Zone. You have the unique opportunity to present your company and your products in our visitor lounge the transition between hall 1 and hall 3C.
Contact person for Meet & Seat Zone